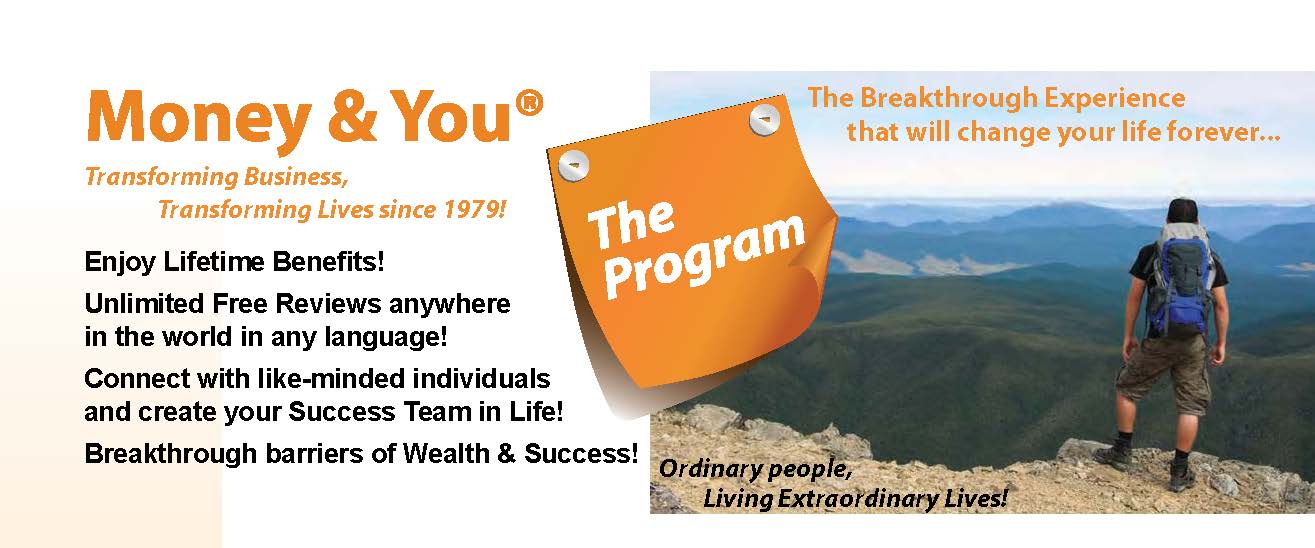 MONEY & YOU -MALAYSIA (6-9 OCT 2022)
We are excited to make a comeback with Money & You® happening LIVE in MALAYSIA! We'd like to give you a heads up so you can book seats, get ready for the breakthrough experiences, and look forward to welcome your family as part of the worldwide Money & You® Community.
Money & You® Lifetime Membership:
Money & You® is starts with a 3½-day Program that has brought so many people from around the world together and the beauty about this program is once you graduate from the 3 ½-days, you become an automatic lifetime member and get to enjoy lifelong benefits –unlimited free review anywhere around the world, in any language and this program
has been around for over 42 years. You will be empowered with timeless Wealth-Building Principles that will fast track your journey to creating the success, freedom, and fulfillment you want.
The Program Schedule for English Money & You (3.5 days) is as follows
(though this may change depending on event requirements due to Covid situation):
Lastly, 9.1 out of 10 rated Money & You® as Awe Inspiring. Here's What's Covered In The 4.5 Days
CONTEXTUALIZATION & KEYS TO LONG-TERM SUCCESS
Day 1, 7:00 pm – 11:30 pm
Introduction of the Unique Learning Environment using Whole Brain Technology
Use the Proven Formula for Building Successful Long-Term Business and Personal Relationships
Master the Key Principles that Successful People Use to Turn Obstacles to Opportunities
How You Instinctively Makes Decision, and Discover Beliefs that Support or Inhibits Success
Staying Ahead – How to Differentiate Yourself, or Your Business from Your Competitors
MASTERY PRINCIPLES – PERSONAL, FINANCIAL, BUSINESS APPLY THE 4 STEPS TO MASTERY TO CREATE RESULTS BEYOND ORDINARY AND BEYOND LIMITS
Day 2, 9:00 am – 11:30 pm
Apply the 4 Steps to Mastery to Create Results Beyond Ordinary and Beyond Limits Master a Tool to Identify Strengths, Needs, Drivers and Motivators to Empower your Team Discover the Communication Tools to Align Teams, Improve Productivity, and Reduce Conflicts Learn Strategies that Successful People Use to Dramatically Grow their Income, and Business
How to Keep Being On Track, On Purpose to Achieving Personal and Organizational Goals Apply the 7 Keys of Strategic Thinking in Building Your Career or Business to Thrive in Any Market Learn the Power of Leverage to Achieve High Returns with Little or No Risk
OVERCOME BARRIERS TO SUCCESS, DESIGNING THE FUTURE
Day 3, 9:00 am – Sun 2:00 am
Engineering A 5-Year Vision for Yourself and Your Organization — How To Get From Where You Are to Where You Want To Be
Remove your Subconscious Barriers to Success, Joy, Fulfillment and Financial Abundance
Discover and Reignite Your Passion and Purpose in What You Do, and How You Can Have It All
Safeguard your Personal and Organizational Wealth and Protect the Financial Future
Develop your Emotional Intelligence — How Emotions Effect Your Results
Effectively Resolve Conflicts and Upsets in Business, Teams and Relationships
How to Develop a Culture to Increase the Level of Ownership, Responsibility and Accountability
How to Implement Systems and Policies to Achieve Optimum Performance and Excellence
INTEGRATION FOR SUCCESS, BUSINESS SUCCESS MODEL
Day 4, 11:00 am – 11:00 pm
Internalize and Integrate What you Learnt to Effectively Apply it 'in the Real World'
How to Handle Communication Breakdowns, and the Importance of Communication Systems
Create Synergy and Aligned Teams with Tools Mega-successful People Use to Build Their Empires
Use Cooperation to Create New Levels of Trust with Teams, or Turn Competitors to Allies
Create Extraordinary Results with Less Time and Effort by Applying the Business Success Model
How to Build Win-Win Business and Personal Relationships Long-Term
* end time is approximate
Money & You® is not a one time touch-and-go program. It's a one time investment for LIFETIME BENEFITS.
Watch a Sneak Peak of Money & You® and hear what our graduates say: http://tinyurl.com/MNY-SneakPeak
Your journey begins with the 3 1/2 days Live Event.
Money & You® Lifetime Membership Fee is valued: USD 4,986
Registration for the program is simple. Just complete the attached booking form to reserve your seat for the upcoming program together with your preferred mode of payment. Do let us know if you require further assistance.
We recommend that you book your seat early.
What you will receive together with your seat to the 3 ½-day Money & You® Program Live Event are:
All program materials, and M&Y Workbook
Meals – tea breaks, lunch and dinner throughout the 3 ½-days (Only applies for Money & You held in Malaysia)
Unlimited review of Money & You® anywhere in the world, in any language
International Business Networking Opportunities with graduates worldwide
Access to Masters and Mentors from various fields of expertise
Automatic membership to the  Money & You®  social networks and official mailing list
Training on the Logistics Team after you've graduated and learn how to create synergy and aligned teams in your organization
Money & You® is a journey, and as a global community, we are committed to your success and to support you to THRIVE in every area of your life. Your success is guaranteed, if you commit 100% to creating an extraordinary life for yourself. Our commitment is to take you as far and as fast as you want to go, and inspire you to make that stretch.
Hourly Schedule
DAY-1
19:00

-

23:00

CONTEXTUALIZATION & KEYS TO LONG-TERM SUCCESS

Introduction of the Unique Learning Environment using Whole Brain Technology Use the Proven Formula for Building Successful Long-Term Business and Personal Relationships Master the Key Principles that Successful People Use to Turn Obstacles to Opportunities How You Instinctively Makes Decision, and Discover Beliefs that Support or Inhibits Success Staying Ahead - How to Differentiate Yourself, or Your Business from Your Competitors MASTERY PRINCIPLES - PERSONAL, FINANCIAL, BUSINESS APPLY THE 4 STEPS TO MASTERY TO CREATE RESULTS BEYOND ORDINARY AND BEYOND LIMITS